Veedo Meet #datafree video conferencing is now available on demand.
We can enable datafree video calling for you in as little as 15 minutes.
Video calls cost R1.40/person/minute.
You will have access to a management and reporting dashboard which can be corporate branded. From the dashboard you will be able to create 3 types of video conference calls:
Instant meetings – just share the meeting URL with your team or customers and they can join you right away for a #datafree video chat.

Scheduled meetings – schedule a meeting and share the meeting URL so you can have a #datafree video meeting with your team at a scheduled time.

Always On meetings – embed your meeting URL in a website or corporate internet so customers and staff can interact with you #datafree when you, or another administrator starts a call.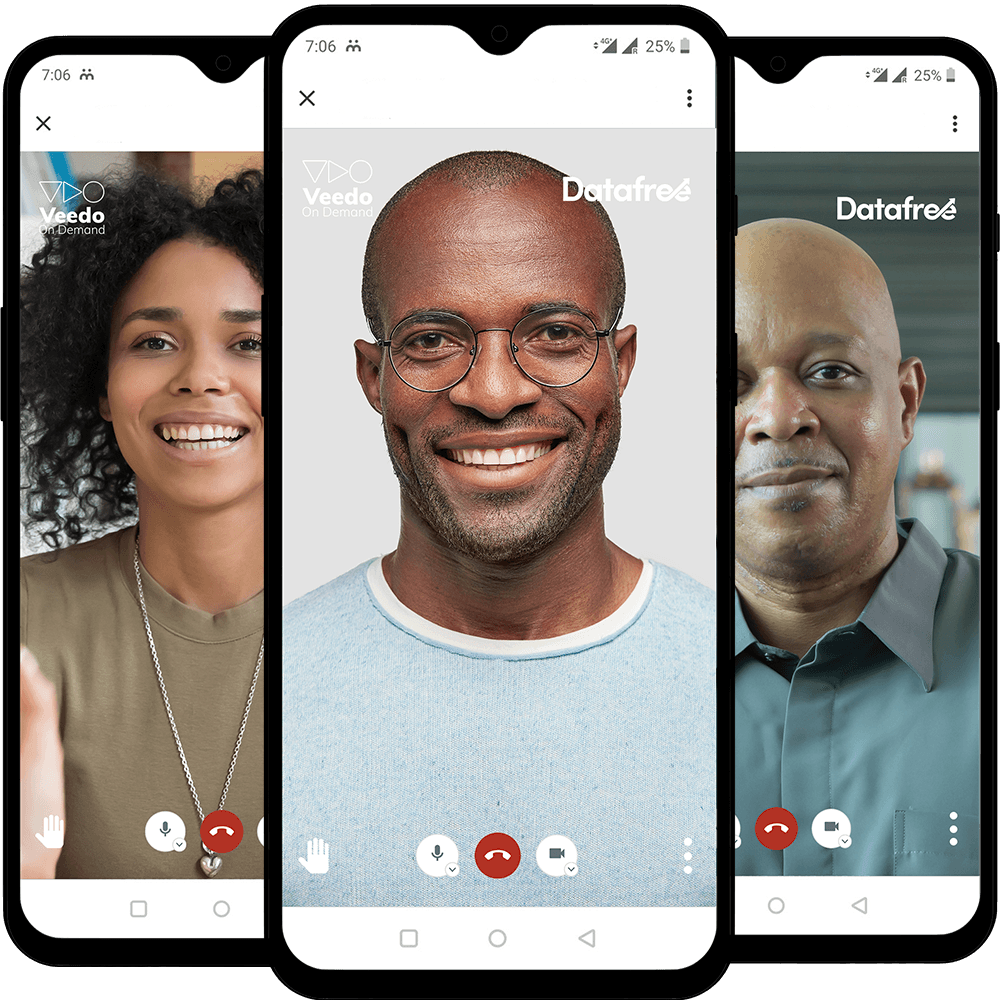 Data Saving technology
In order to minimise the amount of data used Veedo on Demand uses 2 techniques:
'Speaker Cam' technology automatically shuts down the video stream of everyone other than the person speaking.
Optimised Resolution sets the appropriate video resolution for mobile devices to keep data consumption as low as possible while maintaining video quality.
Mobile First
Most people who are data-sensitive are on mobile devices so Veedo Meet is designed to work in a browser; no app downloads or add-on installations are needed. Veedo Meet has a responsive interface which adapts to the small size of a mobile screen ensuring that all elements are appropriately sized for smaller screens.

Admin Password
When you create your Veedo on Demand account you will be given a username and password which can be used to access your dedicated dashboard where you create meetings and access your reporting. Meetings cannot be created without the admin password being input. Multiple admin passwords can be created and disabled as required.

Meeting Passwords
By default meetings do not have a password which simplifies access, however if required a password can be set for any meeting. This can be done after the meeting has started.

Meeting Moderator
Every meeting needs to have a moderator who is able to access special functions. By default the administrator who sets up the meeting is a moderator. Once the moderator leaves the meeting, it automatically ends. If the administrator needs to leave the meeting early they can easily assign another participant to be a moderator. This is also useful for larger meetings where multiple moderators may have different roles.
Corporate Branding
Your dedicated dashboard can be branded with your organisation's name and logo. This optional service is free of charge.
Reporting
In your dashboard you will be able to see historical meeting statistics which are updated at the end of every meeting.
Information includes:
Participants' names

Participants' joining and leaving times

Participants' time in the meeting

Total meeting time

Meeting cost

Messages sent during the meeting
Pricing
Veedo on Demand has only pricing elements:
A monthly product fee of R1,000

A platform charge of R1.40 per user per minute including all mobile data consumed (a discounted price is available for Public Benefit Organisations).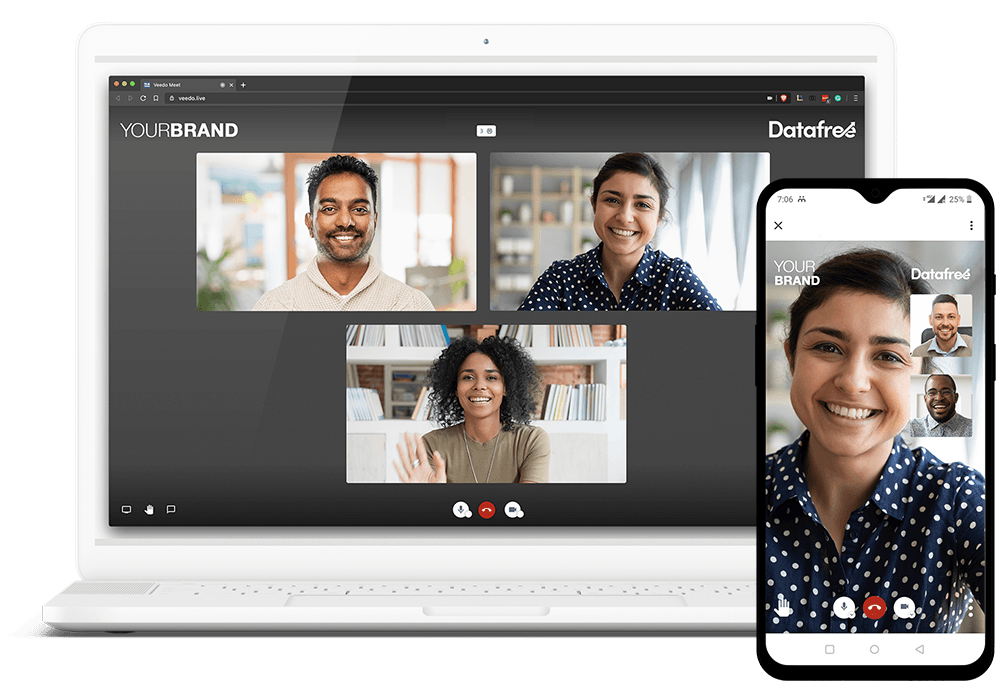 Participant

Joining

Time

Leaving Time

Total Call Time

Participant 1

08:57:11

09:31:19

00:34:08

Participant 2

08:57:59

09:22:45

00:24:46

Participant 3

08:58:32

09:31:19

00:32:47

Participant 4

08:59:01

09:31:19

00:32:18

Participant 5

08:59:54

09:30:58

00:31:04

Participant 6

09:00:10

09:31:19

00:31:09

Participant 7

09:05:08

09:31:19

00:26:11

Total Time

03:32:23

Price/Minute

R1.40

TOTAL CALL COST

R297.34
Stream Your
Way.
If you want a demonstration of Veedo on Demand or need more information please contact us.